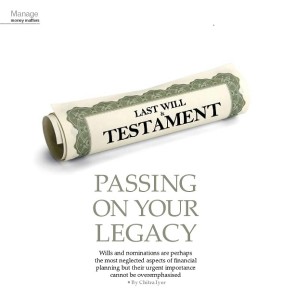 Here is an article "Last Will & Testament- Passing On Your Legacy" written by our COO Ms. Chitra Iyer.
The article is very informative and beautifully covers various aspects like the need for a Will, the sense of urgency required about it and nominations. It shows you how simple practices can make your and your family's lives easy and stress free.
We hope you like the article and use it in your life. Looking forward to your feedback on the same.
This article first appeared in the August 2014 issue of Complete Wellbeing magazine.
Please click on this link to read the article – Nomination & Wills_Chitra Iyer_August-14