Passing on Your Legacy – WILLs and Nominations are perhaps the most neglected aspects of financial planning but their urgent importance cannot be overemphasized.
Recently, a family friend of mine suffered a heart attack and passed away suddenly. I had helped him plan his finances and investments.
His main focus was to protect his capital and make it grow. His objective was to enable his wife to manage things once he was gone. As financial coaches, it is important for us to have an understanding of our client's needs, their risk appetites and help them make the right decisions.
When this client passed away, I learned that I should have pushed him to attend to one small but absolutely essential thing: choosing a Nominee for one of his bank accounts. His primary bank account had no second holder nor was his wife a Nominee. However, in all the other investments, we had ensured that his wife was the second holder using "either or survivor" mode. Thankfully, we had his WILL in place.
How does one make a WILL?
It can be made by anyone who is 21 years of age and of sound mind.
It can even be handwritten and on plain paper. It doesn't have to be on a stamp paper or in any particular format.
List all your assets and name the person/(s) you want to bequeath each of them to. It should be witnessed by two persons who are not beneficiaries under the WILL.
To carry out the bequests, an executor must be appointed.
It is a good practice to have the Will registered to enable prompt distribution of the estate. This is optional though.
Why do people NOT make a will?
People usually refrain from making a WILL thinking they have all the time in the world to do so later.
They feel that since they have appointed a Nominee in most of their investments, they do not need to make a WILL as it serves the same purpose. This assumption is incorrect!
A nominee is just a custodian [in most cases], who will transfer the assets to legal heirs named in a WILL or as per Succession laws. Having a Nominee saves the legal heir the cumbersome process of producing a death certificate, and proof of relationship since the company is bound to transfer all your money/ assets to the Nominee.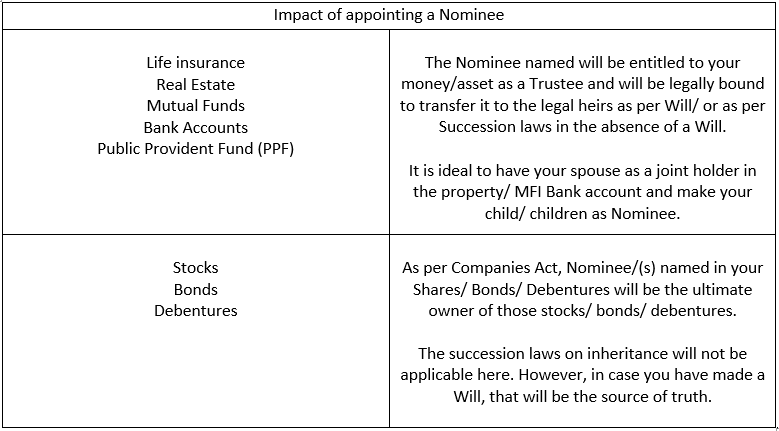 Crafting your Will enables easy transfer of your assets to your loved ones!
Author, Meena Shriram, Head of Doctor Practice at MFA Capital Pvt Ltd